Traditional Paneer Tikka Masala Recipe
AUTHOR :Shivani
CATEGORY :Vegetarian Recipe
COURSE :Side-Dish Recipe
CUISINE :Indian Recipe
DIFFICULTY :Medium
SERVINGS : Serves 3-4
---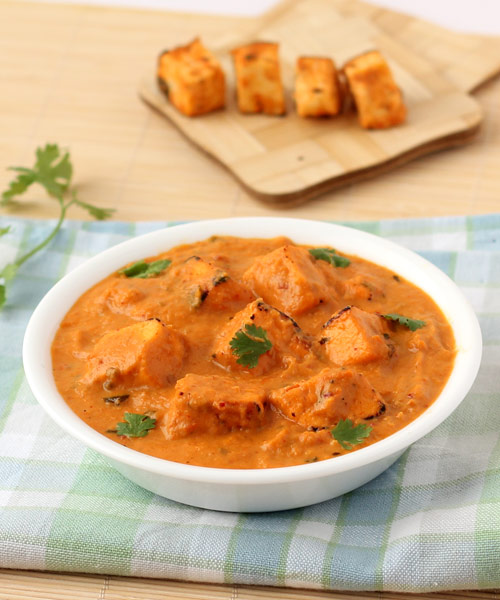 INGREDIENTS
100g – Paneer
3 medium – Tomato
25g – Butter
1 cup – Cream
½ cup – Curd
2 tsp – Red Chilli Powder
1 tsp – Jeera Powder
1 tsp – Garam Masala Powder
1 tsp – Kasuri Methi
2 tsp – Coriander powder
1 tsp – Turmeric powder
10-12 – Cashew nuts
25g – Mawa
2 tsp – Coriander leaves
4-5 – Green chillies slits
2tsp Lime juice
Salt to taste
For Tandoori Masala:
1 cup – Curd
3 to 4 tbsp – Kaju paste
1 tbsp – Red Chilli powder
1 tsp – Garam Masala
Lime juice
Salt to taste
HOW TO MAKE TRADITIONAL PANEER TIKKA MASALA
1.Cut paneer in cubes. Apply the prepared tandoori masala on the paneer cubes. Grill the paneer for 2-3 minutes.
2.In a hot non-stick kadai, add butter,after it melts add tomtoes.
3.Add chilli powder, jeera powder, garam masala, kasuri methi and saute for 1 min.
4.Next Add curds and kaju paste to it.
5.When the oil leaves the sides gradually add cream.
6.Add the grilled paneer to the gravy.
7.Garnish the recipe with mawa, cream, chopped coriander leaves and broken kaju pieces.
8.Serve it hot with parathas or naan.